Arrow 1/2 Pint Wildflower Mixture
Showy, shorter version of the Arrow Prairie Wildflower Mixture with a great variety of colors including Blue, Yellow, Orange, Red, White, and Pink. Under good growing conditions, the flower height will range from 8 to 30 inches tall. Works well with Native grasses like Sideoats grama, Blue grama, Buffalograss and Little bluestem. Perennial mix.
Approximately 396,000 pure live seeds per pound.
Seeding rate: 2-5 oz./1,000sq. ft. or 6-10 lbs./acre.
Mixture includes: Baby's Breath, Blackeyed Susan,  Blue Flax, California Poppy, Clarkia, Blue Cornflower, Corn Poppy, Dwarf Red Coreopsis,  Lance Leaved Coreopsis, Lemon Mint, Dwarf Evening Primrose, Shasta Daisy, Red Yarrow,  and Prairie Coneflower.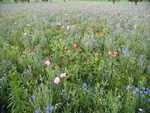 $10.00 – $329.50Select options